Dreamland Says 'Goodnight' (Part Two)

Saturday 4 September 2004 was the night that the Save Dreamland Campaign bid farewell to the park and the Scenic Railway, hopefully only for the year, but possibly forever. Starting at 7pm, the Scenic Railway was open until midnight and beautifully illuminated. It was a fantastic evening, with a very large turnout of campaigners. Below we present the evening in photographs. Unless otherwise stated, the photographs are courtesy of Justin Garvanovic of the European Coaster Club.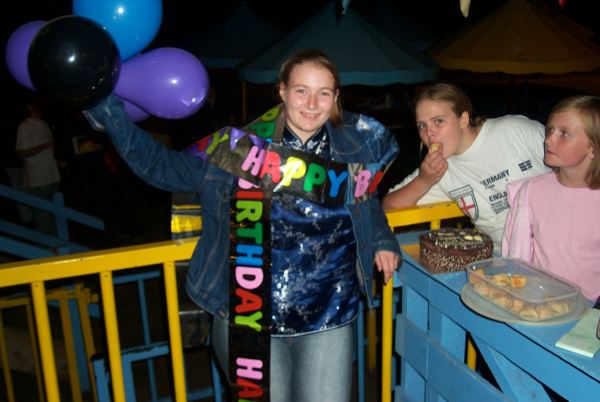 The Farewell event was also a special day for Leanne Cooksey, daughter of campaign member Alan Cooksey, who celebrated her birthday on 4 September. Leanne is pictured here in the Scenic Railway station.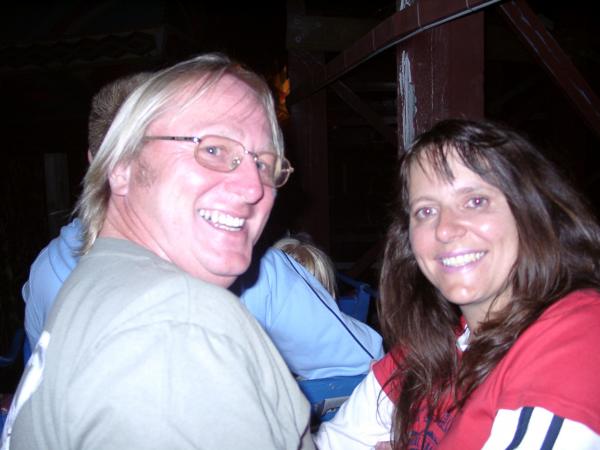 Gez and Cheryl waiting to ride again. Two trains were operating late into the night to cope with the crowds - those paying £10 for unlimited rides could also use a 'fast track' entrance and avoid the queues.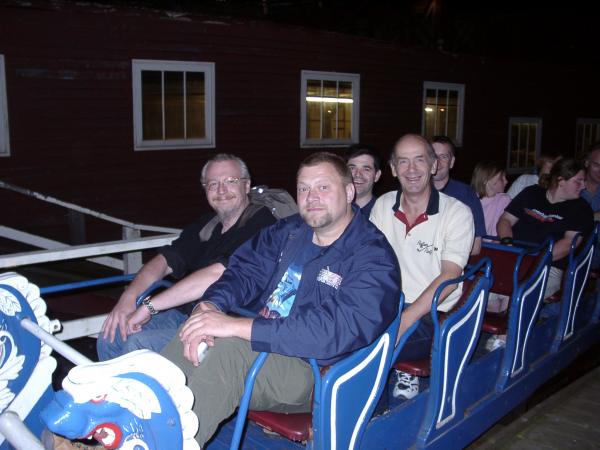 Jean-Marc Toussaint and Rob Warner enjoying yet another ride on the Scenic.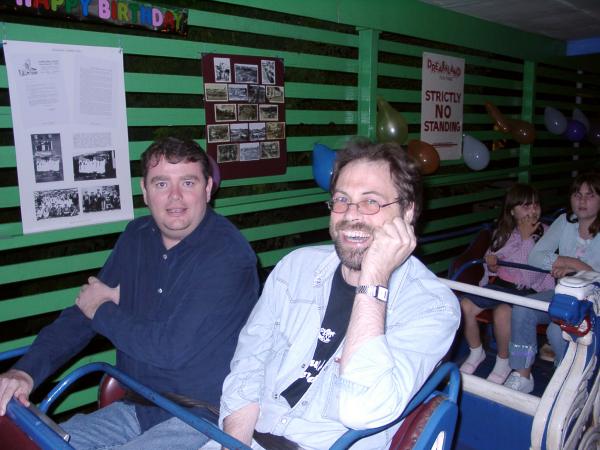 Kent-based motor racing driver Keith Hopkins (right) is clearly excited about his forthcoming ride on the Scenic. Nick Laister is seated to the left. The station was adorned with old photographs of Dreamland dating right back to when the park opened in 1920.

Sarah Vickery takes a break from all the excitement, happy in the knowledge that the catering problems have been resolved! With yet another successful event behind her, Sarah looks like the kind of girl who wants to do it all again. (Photograph courtesy: Susan Marsh)
Return to Photo Galleries Index
Return to Save Dreamland
Return to Joyland Books for the biggest selection of amusement park books on the Web!