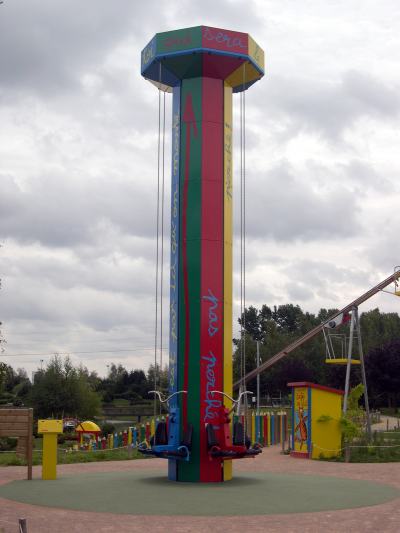 An experience for all the family and easy to operate, the Lighthouse is a Heege Tower. The rider gets into the seat, closes the safety bar and pulls on the rope. The person holding the rope controls the ride!
The harder and quicker the rope is pulled, the faster the seat goes up.
If the rider lets the rope go, down the seat goes at 1m/s.

Passengers are generally unaware that an almost silent motor supports their efforts. And as the tower continuously turns around its own axis, on reaching the maximum height passengers will be rewarded with an amazing view of Dreamland and its surroundings.

The ride has a height of 9 m so will be an imposing eye-catcher in the park.
More details: www.heege-freizeittechnik.de
Photographs courtesy: Jean-Marc Toussaint
Click on photo for larger version.