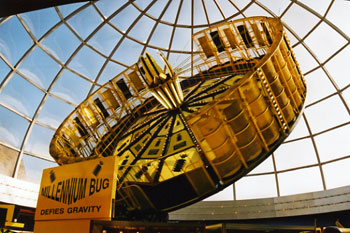 Sandstorm is Britain's first ever park meteorite ride, installed at Blackpool Pleasure Beach in 1969 as the Astro Swirl. In 2000, it was renamed 'Millennium Bug', and is pictured above in September 2002 in this latter guise. (Photograph: Nick Laister).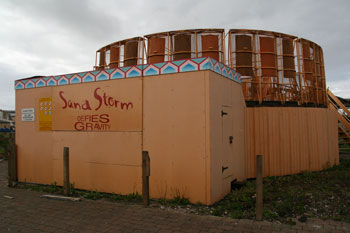 The ride standing in the abandoned Pleasureland in May 2007. (Photograph: Nick Laister).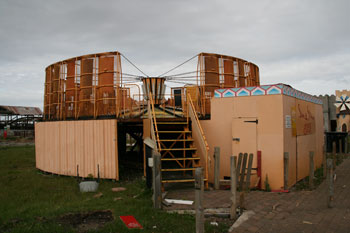 Another view of the ride in May 2007. (Photograph: Nick Laister).

Inside the ride in May 2007. (Photograph: Nick Laister).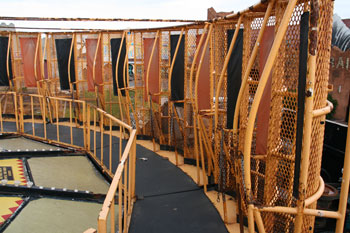 Another view of the ride in May 2007, shortly before being packed away. The ride has deteriorated somewhat since being moved into the open air at Southport, having operated under cover for 34 years, however it is mechanically sound. (Photograph: Nick Laister)
History: The National Fairground Archive describes the meteorite ride as follows: "A simple concept utilising centrifugal force. The wheel has cage compartments on the circumference, and force pins the riders against this (similar to a Rotor). The axis inclines towards vertical and the riders experience the centrifugal force combined with the pull away/towards the cage through gravity as the machine rotates."

The Meteorite previously operated at Blackpool Pleasure Beach from 1969 to 2003 (called Astro Swirl and later Millennium Bug, operating inside a dome structure), where it was the first meteorite ride to operate in a British amusement park. It then moved to Pleasureland (Southport), where it operated from 2004 until the park closed in 2006. It was built by Hrubetz

Dimensions: Height 42 ft, operating space 40 ft square, diameter of wheel 29 ft.

Importance: A similar ride operated at Dreamland for a number of years. This example has genuine historical significance, being the first Meteorite to operate in an amusement park in the UK (and only the second such ride to ever operate in the country).

Latest: Now in storage for use in the Heritage Park.

If you have any further information on the history of this ride, please email nick@savedreamland.co.uk.
Click on the photographs for larger versions.