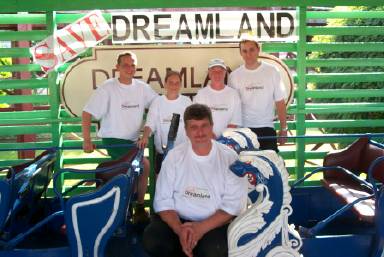 Some of the Scenic Railway team pose with their new 'Save Dreamland' T-shirts (Back Row: Dave, Chloe, Tina and Sam; Front Row: Simon)
The day began with John Husband arriving first, the others following later due to technical difficulties the previous day, which resulted in the team working on the ride until 3am on Saturday morning! Apparently, the green train was going around the track and one of the brake shoes broke, dropping down and digging into the track, damaging both the track and train.
My two daughters and I presented the team with their T-shirts, which the team graciously and enthusiastically received.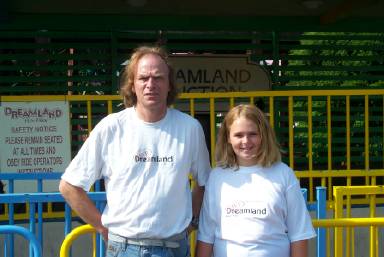 Alan Cooksey and daughter Eliose standing beside the Scenic Railway station.
Throughout the day, we spoke with many families on holiday regarding the impending ride closure and Dreamland's redevelopment. All were horrified and distressed to learn that the place where their families, in many cases for generations, have visited could soon be gone.
Many were introducing their own young children or grandchildren to the park. Some had travelled from the north of England for their holiday to Margate, specifically to ride the Scenic Railway and revisit Dreamland.

John Husband repairing a Scenic train in the workshop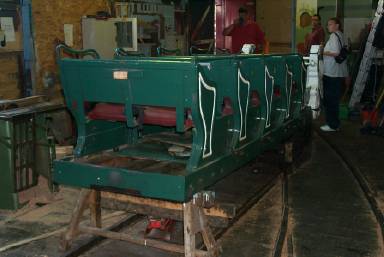 Scenic train up on the ramps.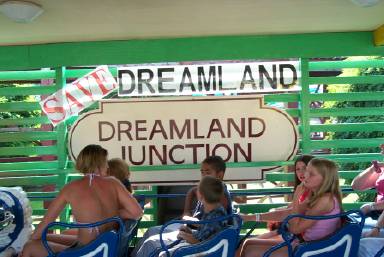 Ride full - customers all aboard the Scenic Railway, ready to go.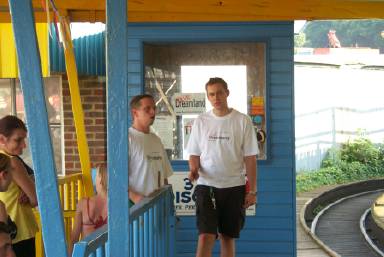 Waiting for the train to return: Dave Collard (l) and Sam Barnett (r).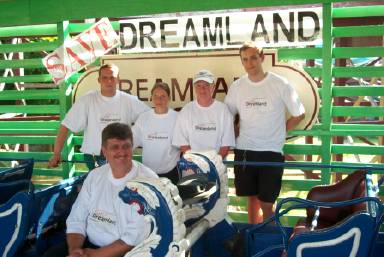 The Scenic Railway team say: "Save Dreamland!"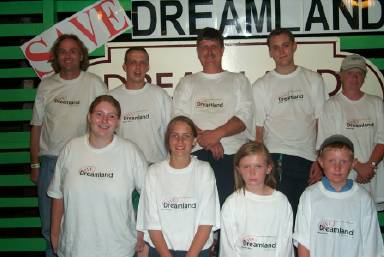 Everyone showing off their 'Save Dreamland' T-shirts. Back row from left: Alan, Dave, Simon, Sam, Tina. Front row: Leanne, Chloe, Kelly and Adam.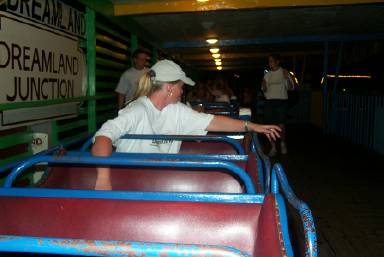 At the end of an exhausting, hot day, it is the team members' turn for a ride.
Another busy day for the team in front of and behind the scenes. The Scenic Railway is regarded with affection and the overwhelming view of customers is a wish to see the ride continue to operate.
My daughters, Leanne and Eloise, and I wish to thank the team and draw attention to the dedication, hard work, time and commitment that they are devoting to try and ensure the operation and long-term preservation of the Scenic Railway for future generations to enjoy.
Photographs and report by Alan Cooksey