To cut a long story short, what passes for 'vintage' at the park isn't really that old. Ok, the Haunted Mine is notable because it was built using the wood from the ride which preceded it, the Scenic Railway roller coaster, built in 1939. But, predictably, I was there to check on the Galloper set, which although a product of the 1990s should have been worth the trip. Galloper sets always are!

Wrong! In keeping with the rest of the rides at the park (with the exception of the Waltzer and the new 'Evolution' thingie) it was crying out for a paintbrush and ten gallons of 'Mr Muscle'. The colours on the mounts and rounding boards are more suited to military exercises in Kuwait than attracting punters onto the ride.

So, what's going on? Perhaps some park owners believe they have a captive audience that will pay good money for any old mince, just because they are 'on holiday'. Why bother making the place look nice if the cash keeps coming in? Ok, that's a cynical view, but it's a reasonable certainty that if the same logic was applied to a travelling fair then the Showman would be out of business pretty sharpish.

As if proof of this were needed, let's compare the Galloper set at Barry Island with another operating nearby. Only a few miles away, spending the summer in Cardiff city centre, the Gallopers of Showman Charles Holden were going about their business - and after leaving Barry I stopped off to take a look.

For those of you who really know your onions the Holden set was operated by Owen Smith on behalf of Tommy Matthews on Brighton beach until 1998. And what a difference a few miles makes to presentation style.

Correct me if I'm wrong here, but both the Barry Island and Holden sets were made one after the other by the same company (Mardi Gras?) in 1995 and 1996 respectively. How can it be that one looks like it left the factory yesterday while the other, er, well... Doesn't! Could the answer be corrosive sea air? Yeah, that'll be it.

Arriving in Cardiff in late afternoon business was a little slow and the outer row of Anderson replicas were being polished (I kid you not). The Holden set really looks the part with gleaming brasswork, a shining platform, immaculately painted horses (fibreglass admitedly) and some interesting looking Dragon Gondolas, similar to the ones at Yarmouth Pleasure Beach if memory serves.

Certainly it was 'thumbs up' to those hard working people who make their living on the road.

But the $64,000 question remains. Is Barry Island any different from other coastal amusement parks in Britain these days? The simple answer is 'not really', although most have a lot further to fall.

With thanks to Nick Laister, for the history of Barry Island Pleasure Park. Thanks also to Keith Hamilton.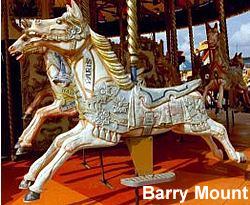 Gallopers at Barry Island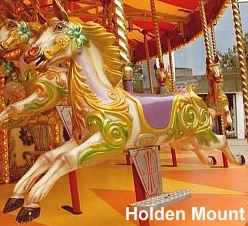 Gallopers in Cardiff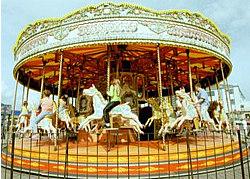 Gallopers at Barry Island

Gallopers in Cardiff