Let's now take a walk around the funfair to see what was on offer to amuse visitors during the first year of operation. The park was laid out in an L-shape. The two largest rides came courtesy of showman John Collins. The Big Dipper was the bigger of the two gravity rides, its white structure dominated the southern end of the Amusement Park. This ride was a rebuild of the Scenic Railway from Collins' Crystal Palace Amusement Park in Sutton Coldfield. This ride had been a rebuild of Stephen Hadfield's Scenic Railway from Southport's Pleasureland. Virtually next door was the Dragon Ride which was a rebuild of Hadfield's other former Southport coaster the Mountain Caterpillar Railway. This differed from the first gravity ride in that it was covered in plaster rock work to resemble a mountain. The trains had dragon's heads on their front carriage. Both coasters were side friction rides and had a brakeman travelling with each train. John Collins also operated a Brooklands Speedway; this had been manufactured by Supercar and was built up inside the Big Dipper. While the same owner's Wall of Death operated inside the Dragon Mountain.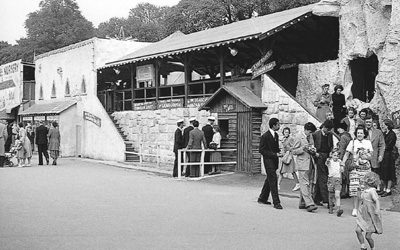 The entrance to the Dragon Ride. Photo: Horst Koch
Collins' final large ride was one of the novelties that were making their debut at the Festival Gardens. The Boomerang was a pretty unusual ride to say the least. A spinning frame had four tubs attached to its arms. The ride gradually built up speed on a circular platform. The operator then released a coupling which caused the cars to shoot up an incline and into a tunnel before arriving back at the loading platform. This novelty must have had limited appeal as I have never seen any record on any similar rides in this country.
Another concessionaire who had a number of attractions was Billy Manning from Southsea. He bought along the three abreast Gallopers that normally operated at the resort's Clarence Pier. This ride only stayed at the Festival Gardens for a couple of seasons before returning to the pier. He also had a Moon Rocket and Octopus on site. His final large ride was a set of Dodgems which were housed in a large semi permanent building that measured 130ft by 60ft.
Marshall Hill came from just along the coast - Hayling Island. He provided an open top Caterpillar, at the time a staple ride of most amusement parks. But he didn't stay at Battersea very long as by September he had sold the ride, which now had a roof, to Arthur Bates who also ran the park's Waltzer. The World's Fair newspaper described this latter ride as being elaborately decorated by Nuways Art Service Studio and brilliantly lit inside.