At the base of Britannia Pier is Joyland which always used to be the highlight of the day (now, I'm a bit too old!).

This was the high point – to spend enchanted evenings in this tiny park – a concentration of pleasure.

There was nothing better.

On the north wall, alongside Britannia Pier is Tyrolean Tubtwist, famous for being the last remaining "Virginia Reel". Although not a wooden coaster (a rail set in concrete guides the tubs along) this combination of lift hill and adjacent, descending zig-zags must surely give a taste of these adored rides.

The centrepiece of the park houses three attractions.

On the ground level are two: one is a fast, circuit ride that forms a tight crescent.

The bulk of the base, though, is taken up by the dark ride, Neptune's Kingdom. Seahorses carry you through rings of light into a bizarre, undersea world where sea creatures burst back-and-forth through doors for no apparent reason. A sensitive child, I was never 100% sure whether I really was underwater or not.

Above these two rides, a powered coaster completes circuits high in the air.

In my day, this was Space Base – a walkthrough. A model ET would beckon you to climb the stairs and enter its world of housework droids and alien frogs – all operated by buttons or levers. At various points, you could peer down through holes into Neptune's Kingdom.

The highlight of highlights, though, is the Super Snails. This beast lines the southern and eastern (beach-side) walls of the park – a vast network of out & back, concrete track.

Unlike the Pleasure Beach's Snails, which is purely a dark ride, Joyland's Snails features changes in elevation and is very like a roller coaster – It must surely be the ride that got me interested in them. The return trip, past gnomes and model houses, is choc-full of exhilarating bunny hops.

A ride on the Snails was not just the best thing in Joyland – It was the high point of Great Yarmouth itself.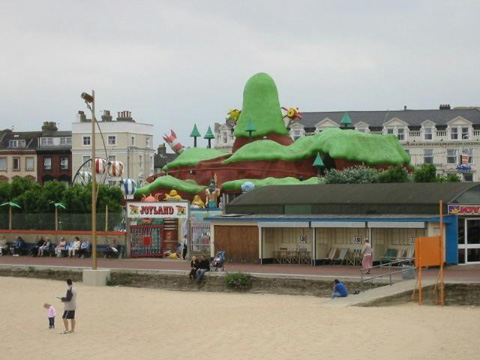 Joyland at Great Yarmouth. Photo: Graeme Cassidy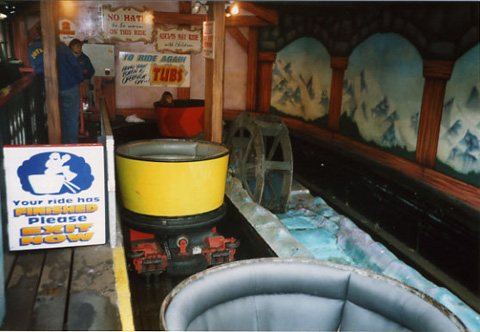 The Tyrolean Tubtwist at Joyland. Photo: Nick Laister (www.joylandbooks.com)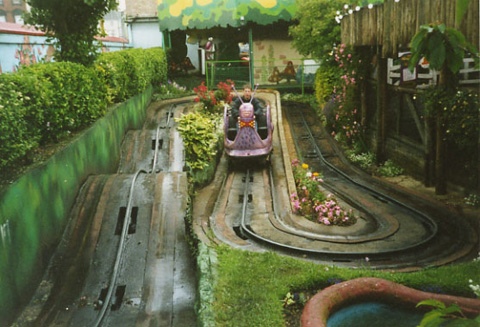 The Snails at Joyland. Photo: Nick Laister (www.joylandbooks.com)