The owners of Peter Pan's Playground - Maxwell, Manners and Pring - operated other parks in Southend and Brighton. Both were named Peter Pan's Playground.

The word 'Pool' was added to the name of the site in Southport because the open air baths were used for boating.

themagiceye thinks it can remember hiring a motorboat in the sixties (accompanied by dad) and watching the ride operator turn a large egg timer over at the beginning of the ride.

I took the wheel and almost instantaneously got the boat stuck in some shallow water around the edge of the lake.

A young lad spent an age 'rescuing' us but the egg timer wasn't stopped.

No sooner had we been pushed away from the side the guy ran back to his hut and called out through a loudspeaker for our boat to come in.

That was the last ever time I remember having a ride on the boats there.

Peter Pan's Playground and Pool. Photo: Mortis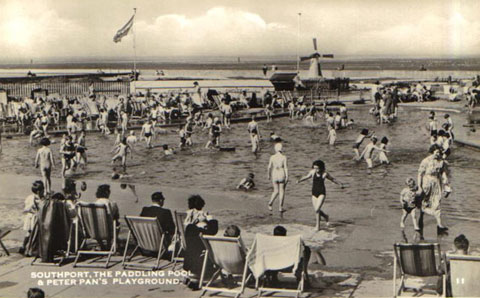 Peter Pan's Playground and Pool. Photo: Mortis