Belle Vue
One of the most loved and much missed amusement parks this country ever had. And in a way it was years ahead of its time. Not far from Manchester city centre, the original zoological gardens were opened in 1836. But Belle Vue was much more than an amusement park. For years the Zoo was the main event. Then there was the Kings Hall which hosted concerts by Jimi Hendrix, The Who and The Rolling Stones. A speedway stadium, a 10 pin bowling alley, model village, ballroom, restaurants, bars and cafes. Having said that, when I first visited in the late 1960s the amusement park was huge. It had three gravity rides - one of them a world record breaker, Ghost Train, sideshows and more rides than you would see at your average city funfair or seaside park.
My earliest memory of the park was in the mid to late 1960s. It must have been the weekend when I visited and the funfair was jam packed full of people. I don't ever remember it being anywhere near as busy when I made later visits in the 70s - but by then Belle Vue was coming to the beginning of the end.
The first attraction you saw when you walked through the Hyde Road entrance was the Water Chute. This was opened at Easter 1957 a year after a similar ride had opened to the public at Battersea's Festival Gardens. Originally invented in Germany the circular water chutes were developed in the UK by Sir Leslie Joseph. The original one made its debut at Porthcawl's Coney Beach in 1936.
Next to the Water Chute was probably the most famous attraction at the amusement park - The Bobs Roller Coaster. I was way too young to ride it and besides I thought it looked absolutely terrifying. The huge dark structure, dating back to 1929, separated the Water Chute from the rest of the funfair. I do recall when the cars travelled round the sweeping circuit it made a lot of noise - in addition to the screams of excited riders.
The Bobs was unusual as it had very few conventional drops, the majority were curved and sweeping rather than those that you find on conventional out and back coasters. Designed by Fred Church the ride was constructed by Harry G Traver's company. The ride might seem tame by today's standards but at 80ft high and reaching speeds of over 60 miles per hour, the fastest ride in the world at one time claimed the Guinness Book Of Records, it proved to be an intimidating spectacle.
I could have never imagined the day when I would be brave enough to take a ride. Unfortunately for me that day never arrived as the Bobs were put up for sale in the autumn of 1970. I have read that Spanish City at Whitley Bay were interested in relocating the ride but I couldn't see that they would have had enough space. I have also seen a plan of Rhyl's Ocean Beach from the early 70s where the Bobs was included (the ride would have travelled out across the car and coach park). But in the end these plans came to nothing and the ride was demolished.
The third gravity ride was the Scenic Railway and this was unlike any roller coaster I had seen anywhere else. This ride opened in 1928. It originally operated at the Wembley Exhibition of 1924. This ride was scaled down and brought to Belle Vue. It had fake mountain cladding all around the track and a brakeman stood in the centre of the trains helping to control the speed of its journey. I did get to ride the Scenic on a later visit to Belle Vue but my only memory is that I held on - this was in the days before safety bars were compulsory on coasters.
These three rides were the focal points of the amusement park but dotted around them was a whole galaxy of rides, games and sideshows. Trust House Forte owned a number of attractions while as number of well known showmen operated concessions at the park.
Wadbrook's operated a number of rides. These included the 1961 Jackson-built Waltzer. This followed the trend of the time and had a flat back and only two hills, but the cars seemed to spin just as fast as on three hills. The same family operated the Caterpillar. This ride had been so popular at Belle Vue that for a few years in the 1940s two Caterpillars were built up at the park. Once a staple of many amusement parks these days they are very rare although you can see examples at Folly Farm in South Wales and at the Scarborough Fair Collection.
Jacksons owned the Gallopers, which were built in 1882 as a set of Dobby horses by Savages of King's Lynn. This ride visited Nottingham Goose Fair each October after the park had closed for the winter. One unusual ride was the Bug. This had been constructed by Harry Traver, who might have also built the Caterpillar. It was the same ride as the Turtle Chase that used to operate at Blackpool Pleasure Beach but the cars were tubs. This was built up next to the Scenic and Wadbrook's Octopus ride.
Other rides included a French-built Skid, Ark Speedway and Brook lands Speedway. I also recall a grasscutter Twist and Jets rides - although I can find no record of such rides being here in the 60s. Another ride I remember was the Bennett built Satellite of Flora Collins. This ride seemed to be built up in an area separate from the main body of amusements and was close to the children's Veteran cars ride.
Although the large rides are the main attraction at any park the sideshows, stalls and children's rides all add to the atmosphere. Belle Vue had plenty of interesting smaller attractions. There was a Ghost Train, Hall of Mirrors and an Over the Falls. The latter attraction was built next to the Scenic. You walked up some stairs and were shown into a room where there was a seat. After you were sitting comfortably the seat would collapse, the wall in front of you open and you would tumble down a conveyor belt with rollers underneath. The idea was that it felt like falling down a waterfall. Not sure how authentic this experience was but it was certainly a good laugh. I have never seen any attraction like this at other parks - although I presume there were others. I doubt such a ride would get the go ahead these days with the omnipresent Health & Safety officials lurking at every corner.
There was plenty to keep younger visitors amused. They had their own children's corner which featured a Helter Skelter, baby karts and roundabout and on the main park there was a Peter Pan Railway, mini Jets, Happy Caterpillar, car track and toy sets. They even had a Cartoon Cinema which was built in a round wooden building.
I didn't visit Belle Vue again until the early 70s. It must have been pre-1973 as I was still at primary school. But as young as I was I could still tell that the park wasn't the same as it had been during my previous visit. The Bobs had been demolished and the amusements seemed to be more spread out - I later realised this was because there wasn't as many rides as there had once been. The Water Chute, Scenic Railway, Dodgems, Brook lands Speedway, Waltzer, Gallopers, Caterpillar, Ghost Train and Over The Rapids were all still in place. A different Octopus had appeared; I think this could have been the one Ronnie Weston had operated for a season at Rhyl's Ocean Beach. It was painted black and called Monster. There was also a different Ark Speedway in operation. But the big new attraction was the Moon Walk. This was one of the first generation of inflatables. It was red and white striped, fully enclosed and larger than the inflatable bouncy castles you find on today's funfairs. There seemed to be more travelling fairground sideshows in place at the amusement park.
I do recall one more visit in the mid 70s and although this was my most recent visit I have very few memories. Apart from riding the Water Chute the one abiding memory is going on yet another Ark Speedway. This one had animals on and vintage scenery rounding boards with a jungle theme. This ride was sold onto Oxfordshire showman Peter Prately and possibly spent some time in the amusement park at Butlins in Clacton.
ARK!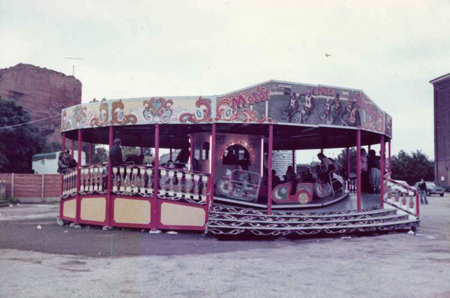 The second of three arks to be found at Belle Vue when Phil Gould visited in the 1960s and 1970s. Picture: National Fairground Archive
While this was my last visit to Belle Vue I was still able to keep an eye on what was happening as there was a pop music show presented by Kid Jensen on Granada Television which was shot at the Park. I recall the Bay City Rollers singing in front of the Octopus - yet another machine of this type which had hoods over the cars and once appeared at Knutsford Royal May Day Festival. Then there was a group called Federation singing Scallywag on Wadbrook's Pollard platform Twist. I've still got the single somewhere in my garage!
To be blessed with hindsight is a great gift. But unfortunately by the time you develop hindsight it is invariably too late. Belle Vue staggered on until 1980 but by then it was a shadow of its former self and the crowds no longer came to sample the delights of the Scenic, the Bobs or the Bug. The park was in a fantastic location close to a huge number of potential visitors and had so many more attractions that could have been redeveloped. If its three mighty gravity rides had been preserved and combined with modern day thrills who knows what could have happened? Clearly there was a lack of vision and investment by those involved. Which unfortunately is the case with so many once thriving amusement parks in this country.
You only have to travel to Denmark to see Bakken and Tivoli, Sweden to view Grona Lund, Spain for Tibidabo and Austria to enjoy the Prater to see what happens when a cared for past is combined with the latest amusements. But to have lost a gem of a place such as Belle Vue is nothing short of a tragedy.