Amusement Park, Butlins Holiday Camp, Ingoldmells
When I was a kid I always wanted to go to Butlins for my holidays. Having a funfair where I didn't have to pay to go on any of the rides was my idea of heaven. But my parents would have none of it and the closest I got to visiting a camp was looking over the fence at the original holiday centre when we visited Skegness in the 70s. At the time the funfair was built up at the northern end of the camp and much bigger than the one that is in place today.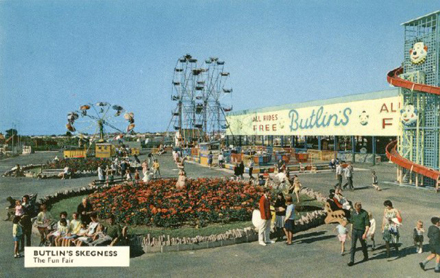 They had a 16 car Eli Big Wheel, which was taller than most of the wheels you found travelling on funfairs. The Dodgems were inside a building so I couldn't really see the size of the track.
The Gallopers were a four abreast machine. This huge roundabout dates back to 1900 and did spend some time at the Grand Parade park before being moved to the holiday camp. The same set still operates at the site today but I don't think that much of the original ride remains.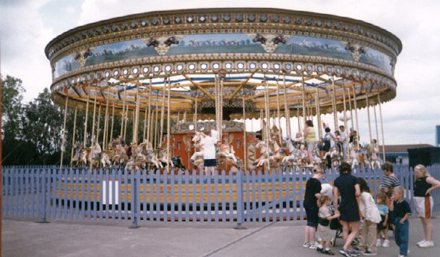 Above: The Gallopers at Butlin's Skegness, photographed in the 1990s. By now the amusement park had moved to its new location by the main road. Picture: Nick Laister
A grasscutter Twist provided high speed thrills while there was also a small Wild Mouse on the fair. I think most Butlins camps had them as standard in those days.
The Cuddle Up is similar to the popular tea cups rides you can find at theme parks. But instead of one spinning platform there were five interlocking discs and the cars could move from disc to disc as well as spin themselves.
The final large ride was built up close to the road - the Grand National. This was the same as Blackpool's Derby Racer but open air. I have never seen a photograph of this ride but a World's Fair report of 1975 does back my memory up. [Update 8/7/12: A reader has supplied a photo of the Grand National ride at Butlin's Skegness. the photograph dates from the early 1960s. Unlike the Derby Racer at Blackpool Pleasure Beach, this ride may never have raced as it has a solid floor. Click here to view the photo.]
There were also a couple of large children's track rides one had veteran cars and the other had trains. Both of these rides were made by Supercar who also produced adult dodgems.