After stopping off at Barry Island we travelled west to Porthcawl.
Coney Beach turned out to be a real find with the latest thrill rides standing alongside historic attractions.


Back in 1981 it seemed there was still place for some of the old favourites while the park owners had also introduced modern rides.

There was also a number of attractions which you would not normally find at an amusement park.

At the very front of the park was a gravity ride that seemed pretty common place back in the 80s but is now a very rare sight indeed - the Water Chute.

Coney Beach's version had arches of lighting on the lift hill and downward chute with two towers at the top.

This circular chute had been built in 1936. It was the only chute I have ever seen with a painted mural in its centre. It made an imposing sight as you walked along the seafront.

Most of the roundabouts were built up in two lines in the centre of the park.

Originally there had been a large boating pool in the middle of the park but this must have been filled in some time in the 70s to make room for more rides.

Starting off the first line was a Reverchon Matterhorn, which was very similar in design to the ones at Rhyl and Barry Island.

Immediately following this was a Pinfari Cyclone Coaster, identical to the one which had once stood at Rhyl, and behind this was a large six lane Astroglide.

Following on from these was Crole's Waltzer which was
traditionally painted and had one of those strange number boards hanging under its front canopy.

I think the idea was to act as a countdown once the ride had started so that would be riders could see how long they had to wait until it was their turn.
In the back corner was the Hurricane, which had recently been imported from America.

This was a smaller version of the Swingaround, but instead of the six arms flying out alternately all of the four seater cars would be raised and lowered at the same time.

The effect always reminded me of somebody opening and closing a spinning umbrella.

It had an orange and white colour scheme with neon lighting up its central column.

Now my memory goes a little hazy as there was a ride called the Krazy Cars. I recall this being a short-lived version of the popular Dodgems.

The cars were circular with large inner tubes bumpers.

They could be rotated through 360 degrees as they were driven round a small track.

I don't think that they ever really caught on.

Coney Beach also had its own set of Dodgems, which was a modern plastic moulded track.

Starting on the second row, adjacent to the Water Chute, was a Maxwell lifting Paratrooper, or Skydiver.

This has 12 cars as opposed to the Bennett version which only had 10 cars. The hoods were painted red, yellow or blue.

Next came a Round Up - a spinning cage ride where passengers stood up and were pinned to the side as it lifted to an angle thanks to centrifugal force.

Also in this area was an Astroliner rocket simulator and a Scrambler Twist.

In my opinion the latter ride did not have a floor and looked less ornate than the Cyclone Twists of the time that came with floors.

Then came John Crole's Golden Gallopers - a three abreast set that is no longer at the park.
Another once popular ride stood in this line - the Hurricane Jets; the rocket cars were raised and lowered by riders who controlled their flight with a joystick.

I always remember the 'hiss' of the jets as they came back down to earth.

At the end of this line was a recent arrival, the Turbo Star.

I think this was manufactured by Huss and it can only be described as a larger version of the Tri-Star which you might be lucky to spot at your local travelling fairground today.

The cars seemed to go much higher and swing out more on this version.

The great thing about Coney Beach was that it had lots more rides and attractions around the perimeter of the park which effectively created a barrier to the outside world.

On the side nearest to the town was a long line of side stalls and one of the park's dark rides the Devil's Dipper.

This was a ghost train but with a couple of steep inclines and 90 degree turns along its route.

The other wall of the park had a whole host of amusements to keep visitors occupied starting off with a second Ghost Train.

Next door was Louis Tussauds Waxworks.

I never went inside so couldn't vouch how authentic the
exhibits were or if it was a case of 'four shop dummies dressed in uniforms and labelled Bucks Fizz'!

Next in this row was the World Cruise, an indoor boat ride past a variety of scenes, similar to the River Caves.

At the back of the park was a Fun House, which had been opened in the mid 70s.

I think the building might have originally been a dolphinarium.

Like the Barry Island version Modern Products provided the novelties such as a joy wheel and rolling barrels.

There was also a Wall of Death, where motorcyclists performed stunts while riding round the inside of a wooden tub.

A wooden Lighthouse Helter Skelter stood next to the park's wooden Big Dipper.

Little did I realise that this was to be the figure eight coaster's last season.

It had stood at the park since 1920 and had the words 'Coney Beach' in cut out letters on top of the structure.

You went round the course in four seater cars and I remember there was only a small handle to hold to keep you in place!

This ride really belonged to a bygone era and it's a shame that it was razed to the ground.
But this wasn't the end to the delights you could find at the Porthcawl park.

There was also a Model Village and Monster Park, which was packed full of 'life-like' pre-historic animals.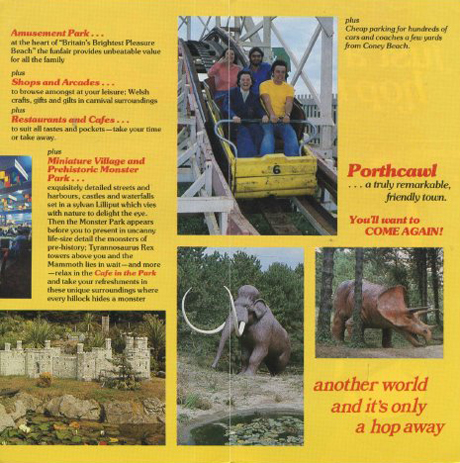 Although I think I have recalled most of the attractions there is one, which I know existed, but I have no recollection of what it actually was.

It was called the Magic Cavern - Any ideas anybody?