One of the rides I dislike the most that I operate has to be Pendragon's Plunge.
All I do all day is pick up a boat, wipe the boat, load the boat and launch the boat again and again - and it's one of the last rides to close at the end of the day!
You can also get very wet even though you havenít been anywhere near the water!
Pendragon's Plunge is one of the worst rides for queue jumping!!
There are clear signs in the park explaining that if people queue jump they can be dismissed from the park without a refund - yet people still go ahead and take chances!
A particular personal favourite ride of mine that I operate is The Kingdom in the Clouds.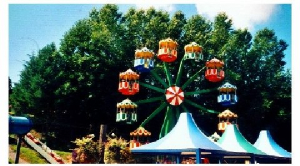 Although I am constantly told by the guests how boring this ride is, itís nice and easy to operate and I donít get much hassle.
Its only bad point is that it always gets very busy just after the Jousting Show has finished.
Although I haven't operated the Junior Skydivers this year (2006) I can tell you that it's one ride that can be difficult to operate in more ways than one.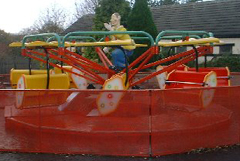 Parents tend to argue with you about the height limits imposed (these changed this year from 1.2 to 1.4m).
Because of the way the carriages swing out each carriage has to be loaded one at a time. Once the ride gets going you are 'tied' to the ride via a 'Dead Man's Plunger'.
If a child stands up whilst this ride is moving (which they have done with me) I have to stop the ride suddenly.
Many of my fellow operators dislike the Caterpillar Capers (or the Apple). The main feelings about this ride are that it is very boring and lonely to operate (it's isolated from the other rides) .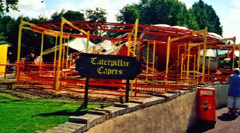 I will admit it's not the most fun ride to operate but when you are having one of those days when you are tired and just want an easier time of things this ride can be heaven!
I asked if I could operate it on the last working day of this year.
All there is to do is to count 24 people on, lock the lap bars, start the chain and push the train off.
There's no hassle with height limits or ride limitations - everyone can go on this ride!