Whenever an Operator or Platformer on Section 1 is on 'reliefs' (ie goes to cover other Operators/Platformers for their breaks) they can be asked to cover the Magic Show!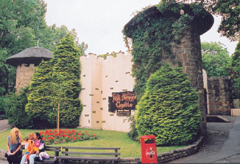 I have done this on a few occasions. It entails opening the doors, welcoming the guests, letting people out during the show and opening the doors at the end.
Being a ride operator I have never had the chance to work in catering or in retail.
I can work alongside them though, for example on the Log Flume or Pendragon's Plunge it is the retail staff who sell the on ride photos.
Another part of a ride operator's job is to pick up litter.
Yes - we have site services that do an excellent job of keeping the park clean and tidy but it is up to all members of staff to keep the park clean and tidy. This helps to give a good impression to the public and helps the park's reputation.
A funny moment I have experienced? In all honesty every day is a laugh.
Ok - there are moments which I will always remember: Particularly the time when my supervisor fell into the water of the Log Flume ride!
...And the time a fellow operator sat in a child's amusement ride (the sort you find in arcades).
...you just had to be there!
In 2005 I borrowed a Camelot dragon costume for a charity event...