BITSoftheBEACH:

You may remember the Big Apple ride that was situated next to The Avalanche.

But are you familiar with the Great Disappearing Giant 30ft Apple Mystery?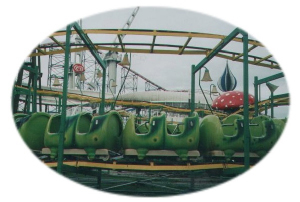 From the Lancashire Evening Telegraph, first published Friday 17th Oct 2003:
The search is on for a giant apple at Blackpool Pleasure Beach - and this time it's serious!

It might sound like the concept for the latest fun attraction at the leading theme park, but chiefs are genuinely baffled by the disappearance of the 30ft fruit.

The apple formed part of a new attraction for children at the park - a mini rollercoaster featuring a giant caterpillar which travels on a 453 ft track.

When Pleasure Beach bosses unpacked the ride, which had been in storage at the former Frontierland theme park in Morecambe, they discovered something was missing.

The children are supposed to be plunged into darkness as the caterpillar twists and turns through the giant apple, but young riders are missing out after the mystery disappearance.

The Pleasure Beach's director of operations, Jim Rowland, said: "I'm a fairly 'appleble' guy but I am not impressed that we have managed to lose a 30ft apple. This is a big feature of the ride and the kids are missing out on a fun part of the attraction."