And then of course there is The Pepsi Max Big One.
From The Gazette, Wednesday April 7th 1999:

Stepping Up: Park Office Manager takes 420 steps, 235ft high up The Pepsi Max Big One pull up in training for the 1999 London Marathon.

Pleasure Beach manager Brian McCormick has stepped up his London Marathon training in a big way.

The 38 year old doesn't have enough time during the day to go running so he runs up and down the 235 ft Pepsi Max Big One instead.

During lunchtimes Brian can be seen tackling the 420 steps and he reckons the world's tallest and steepest rollercoaster gives him the best possible workout.

"I've been training for about six months and have been finding it difficult to find the time to train because of work schedules", he said.

"Other people at work have said that going up and down The Big One really gets your heart pounding so I thought I would try it.

"It's a weird sort of thing to do but it works and there's no way I could make time for a run while I'm at work..."
The (1999) London Marathon was very tough going. It took me about four and a half hours to complete.
There was a lot of publicity with regards to running up the Big One pull up. I did several radio interviews and I was in many newspapers because it was such an unusual thing to do.

With the help of many work colleagues, friends and family, I raised nearly £1600 for the National Deaf Children's society.
BITSoftheBEACH:
Behind the Pepsi Max Big One station is a pathway called Hacking Street.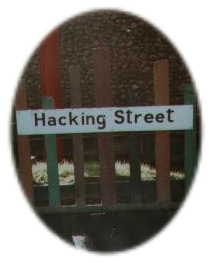 Why is it called Hacking Street?

"Hacking Street was named after Victor Hacking, who was an Assistant General Manager at Blackpool Pleasure Beach some 25 years or more ago.

He worked for the company for just short of 25 years and when he died the Thompson family wished him to be remembered as a loyal employee to the company at the park and therefore the street was named after him."

Thanks to Pleasure Beach Blackpool's Karen Maher for emailing an inquisitive reader of BITSoftheBEACH with the answer.