With regards to seeing famous people there have been too many to mention but I spent a full day with Paul Gascoigne and his friend Paul Stewart who played for Tottenham & England.
When we took Gazza on to the Pepsi Max Big One there was a spontaneous burst of cheering from everyone in the queue shouting "Gazza! Gazza!"
The Red Arrows pilots were riding it at the time and I don't know who was more thrilled when they met each other on the platform.
Gazza was a real character and enjoyed going into the joke shops and trying on funny wigs and glasses and generally clowning about.
He is a keen fisherman and when I told him we had some really big carp in the Tom Sawyer lake he couldn't wait to see them. When we got to the lake there were none to be seen so I told him that because it was one o'clock they were all on their lunch and would be back at two o'clock. I think it was about a full minute before he realised what I had just said!

And then there was the five a side sand football competition that was organised with the help of Russell Grant.

In the photo (bottom right), I am the one in the blazer. On my right is Steve McManaman who played for Liverpool, England and Real Madrid and on my left is Bradley Beaver who as far as I know didn't play for anyone.

We had a good team and won eight one on the day.

Does anyone remember any of these rides:

The Ben Hur, operated by Green Star.

The Egg Scrambler came from Frontierland in Morecambe (I think) and was put on the old Monster site where the Ice Blast now stands before being moved to the South Park. (This ride can now be found at Southport Pleasureland operating under the name of The Tagada)

I can remember actually having a ride on the rocket simulator that was situated in the South Park: it was run by a concessionaire.

There was a children's sandy play area which was situated behind the Candy house arcade. During the winter when it was shut down I helped to fill it in and tarmac it over.

There was a skateboard park situated under the Revolution which, in time, lost its popularity. Eventually it was used as a mini motorbike track operated back then by the Plant family.

There was a Bucking Bronco which as I recall was first placed in the Diamond Lil's Saloon Bar. Diamond Lil's was located in the Casino building - now Passage del Terror. I think too many people after a bit of Dutch courage fancied themselves as real cowboys on the Bucking Bronco only to be thrown from the ride.

It was then placed next to the pony ride which is now the Go-Kart track. I don't know where it ended up but in this day of accident claims it has probably been put out to grass!
BITSoftheBEACH:
And finally...try not to just walk past the Millennium Sun Dial in The South Park.

Take time out to look at it.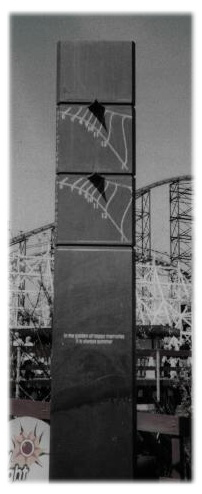 It was designed by the former MP and famous Sun Dial designer Sir Mark Lennox Boyd. It stands at 5 metres high and is constructed in granite.
The Sun Dial comes complete with the day and time markers engraved and etched in gold leaf with quotations on each face.

As accurate as any modern watch or clock, the Sun Dial remains a stunning permanent memorial to the turn of the century.
One of its inscriptions reads:
"In the garden of happy memories it is always summer."
Many thanks to Brian McCormick of Pleasure Beach Blackpool.