VIKINGAR'S LAST STAND (PART 7)
Article by Gary Radice, Nick Laister, Dave Boardman, Ash Stanworth, John Forknall, Fraser Grant, John Burke, John Phillips, Gordon (from Holland), Brian McCormick, George Drew, Ryan, Gary Amos
Article: Added January 2006
Many thanks to Brian McCormick, Park Administration Office Manager at Pleasure Beach Blackpool, for the following:
January 2006: The Vikingar is no more. It has been scrapped. Gone for good. But I will let you know of a little known fact from its history.

Many years ago approx 1980 or 81 (ish) on the last day of the season, every single ride was only 10 pence. I can't remember if it was all day or just for a few hours but it was a competition to see who could get the most riders through. I thought that I had a good chance being the charge-hand of the Big Dipper at the time and running a two train service but it turned out that the Water Chute won hands down and took the most ten pences. I think it was a concession at the time run by a company called Blue Star.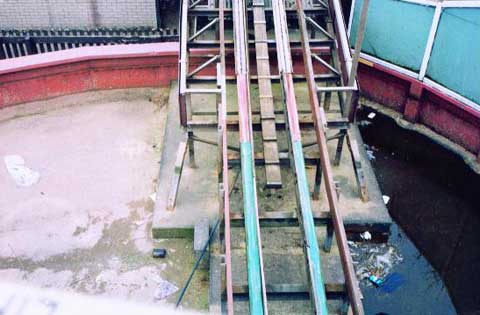 The bottom of the drop in November 2004. Image: Gary Radice