Dreamland: The Bembom Years
Between 1981 and 1995, Dreamland was owned by the Dutch Bembom Brothers, who turned it into a "White Knuckle Theme Park". During this era, Dreamland drew 2 million visitors per year; as a pay-on-entry park it was second only in the UK to Alton Towers. This Photo Gallery will take you on a journey back in time to a very different Dreamland...
All the images in this Gallery are available to buy as high resolution 8"x10" colour prints at £5 each. You can also turn your favourite photograph into a special Dreamland gift. Choose from the following gift options (click on each option for more details): Mouse Mats, T-Shirts, Mugs, Jigsaw Puzzles or Place Mat Sets. The gifts are offered by Joyland Books.

Image Code 32: The Scenic Railway turnaround from the air.

Image Code 33: The Scenic Railway station.

Image Code 34: The Scenic Railway from the air.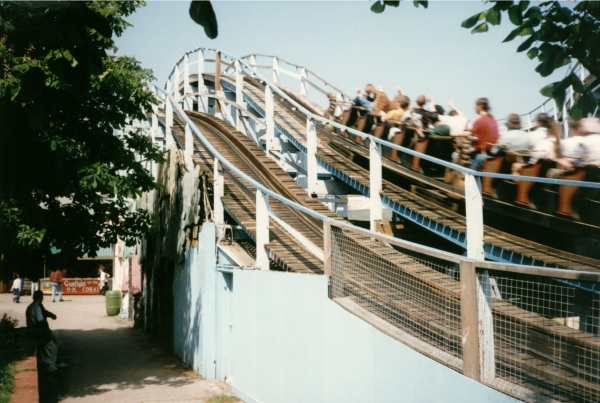 Image Code 35: The Scenic Railway.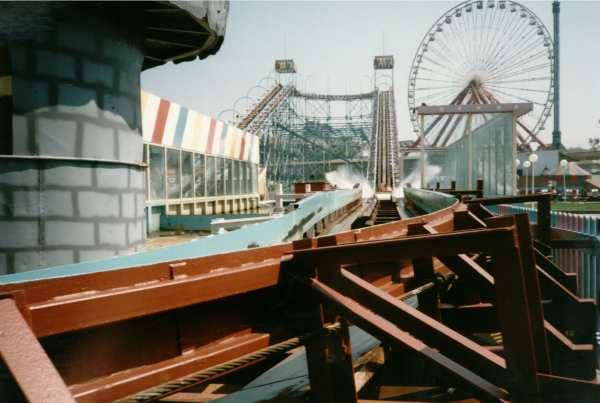 Image Code 36: The Water Chute.
Return to Joyland Books for the biggest selection of amusement park books on the Web!