Dreamland: Years of Decline
This Gallery features photographs of Dreamland taken over the past few weeks. Despite its huge importance to Margate's tourism industry and the existence of the much-loved Grade II listed Scenic Railway on the site, its current owner is determined to close the park. More than one established amusement park operator has told the Save Dreamland Campaign that they would like to acquire the site, upgrade it and relaunch it as a family amusement park. For those who have not had the opportunity to visit Margate recently, these pictures show the sad appearance of the park in 2004...
The images of Dreamland in January 2004 are courtesy of Chris McFarlane of the European Coaster Club.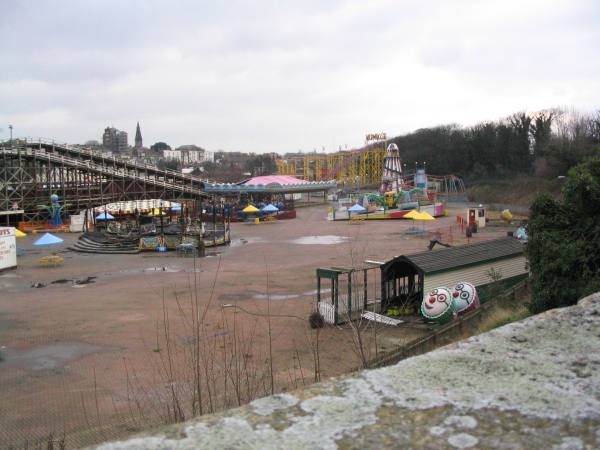 Dreamland 2004: Many of the rides have now disappeared, most recently the Log Flume. But the Scenic Railway still stands, waiting hopefully for a new operator to take over. Note the remains of the Waltzer.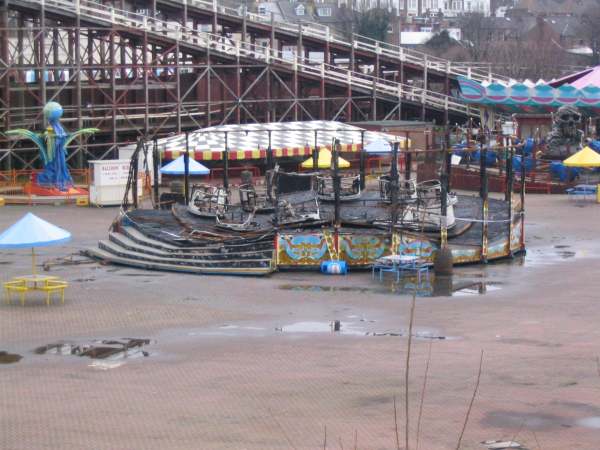 The End of the Waltzer: The remains of Dreamland's Waltzer. Built by Maxwell of Scotland half a century ago, the ride was regarded by fairground historians as one of the UK's finest waltzers. It was destroyed by fire in November 2003.
Click here to see Dreamland in its first year under the ownership of Jimmy Godden>
Return to Joyland Books for the biggest selection of amusement park books on the Web!