Margate's Switchback Railway
Few people are aware that Margate had a roller coaster many years before the Scenic Railway was built. The Switchback Railway was destroyed in the Great Storm of 1897. We are still seeking more information on this ride. Please send your information and photographs to nick@joylandbooks.com.



Advert for Switchback A poor quality photocopy of the Keble's Gazette advert from Margate Library proclaiming the grand opening of the structure on 23 June 1888. This is only three years after the UK's first ever roller coaster opened at Skegness. (Margate Library/Mick Twyman)

Ruins of the Switchback Margate's Switchback Railway was destroyed in the Great Storm of 29 November 1897. (Darren Allport Collection)


The Marine Palace Few (if any) photographs of the working Switchback Railway are believed to exist. This is because the structure was completely hidden from view behind the grandly named Marine Palace, which in fact consisted entirely of timber and corrugated iron buildings, apart from the engine and pump-house and restaurant buildings, which were in brick. The ride on this Switchback would have been exciting, though visually boring, to say the least! The above engraving is from the 'Penny Illustrated', which shows how the buildings obscured the Switchback from view - the only possible photographic opportunity presented would have been looking down into the rear of the site from Fort Point. (Mick Twyman)

Certificate of Incorporation The Marine Palace Company was incorporated on 9 March 1887. (Alf Beeching & Mick Twyman)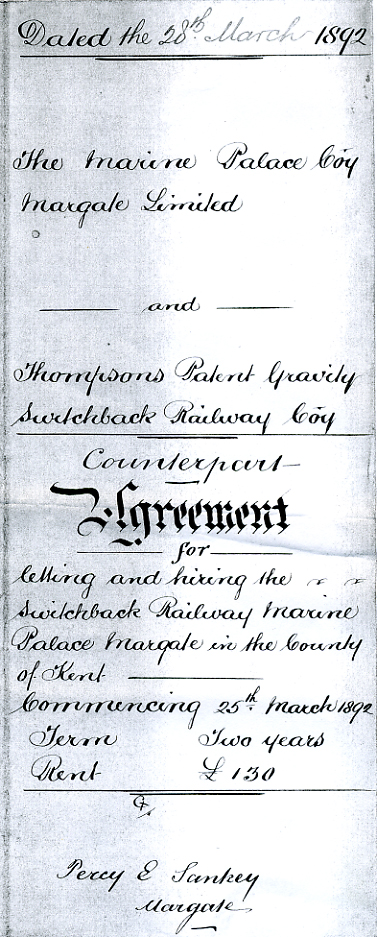 Thompson Switchback Lease The above document records a renewal of the leasing agreement for the site and Switchback made on 23 March 1892, for a period of five more years. This would seem to imply that the Switchback began installation in 1887 during the first five year period and opened the following June as advertised in the local paper. (Alf Beeching & Mick Twyman)
Return to Joyland Books for the biggest selection of amusement park books on the Web!