Ocean Beach Amusement Park at Rhyl in North Wales is also another recent casualty of 'progress'. Two dark rides stand out here. A vintage Ghost Train and the 'Psycho'.
The former, tucked away in a corner near the entrance where it had stood for years, gave the traditional spooky ride while the latter was basically a typical early 70s double decker-type ghost train with a central drop, balcony and the ever popular Supercar cars. This was at the other end of the park next to where the Jetstream coaster stood.
Morecambe's Pleasure Park also contained the standard double decker, which was castle themed with a large skull hanging above the drop. This was originally situated near the Cyclone but was later moved to the opposite side of the park and re-themed when it changed to Frontierland. Another rare Noah's Ark was also here too. The Haunted Silver Mine ride was added later on and while an unremarkable ride in itself its one stand-out feature, for me, was the use of the old Blackpool Pleasure Beach Ghost Train cars, now repainted a sandy colour to go with the mine theme.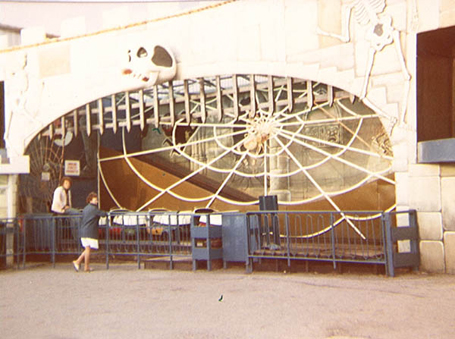 Above: The Ghost Train at Morecambe Pleasure Park in 1977. Picture: National Fairground Archive
I also vaguely remember another smaller funfair around the late 60s/early 70s, behind the seafront buildings but further down the prom, which had a yellow and blue side-friction, figure eight coaster and a small travelling-type ghost train among its attractions.
Blackpool was, and is, Britain's best and most famous seaside resort. To me, growing up, this was Disneyland! Although I never visited regularly, there were enough trips to make a big impression on me and savour every memory until the next trip, which invariably in those days was via a 'charabanc' outing. Either a full day out or just a late afternoon jaunt for the spectacular illuminations, it always provided the essential visit to the many and wonderful amusements situated there.
The Winter Gardens Olympia indoor funfair had a great atmosphere and its Ghost Train didn't disappoint, tucked away against the back wall, brooding and spooky in its demeanour but strangely inviting too.
A handful of large, multicoloured illuminated bricks set against a plain black wall, gave it a very artistic profile with only a full size image of the Frankenstein monster adorning the station for theming.
The cars snaked around the station's unusual track layout, curving as it did around a covered supporting girder next to the out-doors. Olive green cars with a skull & crossbones sporting an eye patch and an evil grin welcomed you into your seat and hinted at the experience that lay ahead in the dark. A large illuminated skull sat between the 'ghost' and 'train' on the signage above the ride and its eerie glow led you around the other delights on offer to this lonely corner of the hall. I always find indoor dark rides to be spookier somehow and this was no exception. A great ride.
The mid 70s however, saw a slight makeover with purple cars and some slight station theming but this also resulted in a darker ride (i.e. less stunts!) before the inevitable closing of this gem of a funfair and a kiddies' play park took over before it turned into an exhibition/market hall. A sad loss indeed. However, if you look carefully, both sets of doors and the girder are still there but are now just part of the back wall.

Ghostly remnants of the Ghost Train at Blackpool's Olympia in 2009. Picture: Phil Gould