I'm aware you retired as Company Secretary from BPB in 2013 - what does your role at the park involve at present?
My current role at Pleasure Beach is as an Enthusiastic Historian. I was lucky enough to enjoy thousands of hours in the company of Mrs Doris Thompson OBE JP and she told me so much of the history which was not written down. I am therefore delighted to share my knowledge with all those who join my PB Historic Tours. There is a lot of history at the park and it is always delightful to see how people are prompted to reminisce about their times at Pleasure Beach but also about their parents, grand-parents and family with whom they have enjoyed such happy times on park.
If there is just one particular thing that you are proud of with regards to The Pleasure Beach, what would it be?
I am proud of so many things relating to Pleasure Beach that this question is extremely difficult to answer! As Company Secretary, and as a senior executive sitting on the top corridor of a Family owned business, it is fair to say that I became involved in most things we did, to a greater or lesser extent.
One of the most exciting projects was The Big One. I rode the prototype (Magnum XL 200) with Geoffrey Thompson in September 1990 and we knew straight away that this new style of coaster was definitely right for Pleasure Beach. However, the same could be said of every ride that we built since 1980!
I am particularly proud of other achievements too - I designed the Brown and White Tourism signposting system and persuaded the Dept of Transport to adopt it. The very first was on the M6 either side of J32 at Preston. I drafted the General Planning Development Order for Amusement Parks, still in Law today. I persuaded the Government to change the Licensing Act to allow children under 14 to enter licensed premises. I also enjoyed every minute of my time as a Committee Member and subsequently Chairman of BALPPA, as President of Europarks and as a Director of ALVA, I would like to think that, in some small way, I made a difference.
In September 2014, I was asked by the Duchy of Lancaster to assume the role of "Under Sheriff of the County Palatine of Lancaster". The Duke of Lancaster is, of course, Her Majesty the Queen. The ancient County Palatine of Lancaster, since the Local Authority boundary changes in 1974 constitutes the counties of Lancashire, Greater Manchester and Merseyside. This is an Honorary role (i.e. not a salaried post) which goes back about 1400 years or so.
There are many aspects involved, but I can be best described as the Aide-de-Camp and Deputy to the High Sheriffs of those three counties. I help them to prepare for their role, I am very much involved in the organisation of all their traditional ceremonies and I am their advisor both in anticipation of, and throughout their year of Office.
I wear a traditional uniform known as Court Dress - as in Court of the King - which was designed in 1760 and has been altered very little since so comes with buckled shoes and a Court Sword. I have become accustomed to reading out long, unpunctuated proclamations at the most wonderfully traditional ceremonies. It is truly a great honour.
David Cam and the Pleasure Beach!
Click on each photograph for a larger version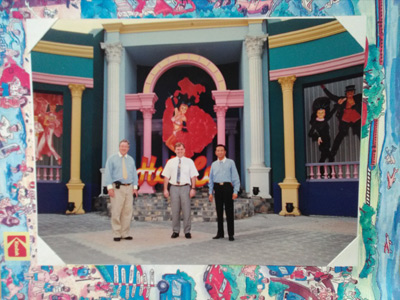 The Hot Ice Show on Tour - this time at Siam Park, Bangkok (Thailand) in 1996. David Cam is in the centre, with Geoffrey Thompson standing to his left.

Prime Minister, Margaret Thatcher, at Pleasure Beach in 1996, being handed a copy of the book Blackpool Pleasure Beach: A Century of Fun in 1997 by MD Geoffrey Thompson. David Cam stands to the left of Mr Thompson, and Mr Thompson's son, Nick, stands to the right.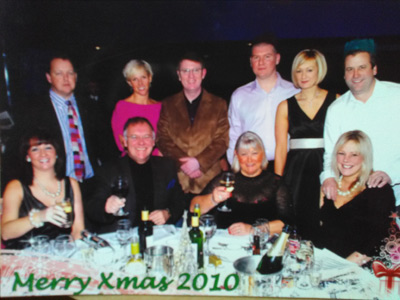 A very happy table at the 2010 Pleasure Beach staff Christmas Party. David is second from left on the bottom row, with current Pleasure Beach deputy MD, Nick Thompson, top row left.