On Saturday, 21st February 2004 Pleasureland Southport held a charity auction in aid of the Southport Lifeboat. The venue was the fantastic Casablanca Entertainment Centre situated at the entrance to the park.
Over £2,000 was raised and that was before offers for a Grand Prix (Turnpike) car of £200 or a Flying Elephant car at £100 were taken up by anyone. Auctioneer (and marketing manager) Steve Christian together with Mark Lee and all the Pleasureland staff worked hard to make the day a tremendous success.
themagiceye went along, and now - September 2006 - takes a fond, sombre look back and recalls what each of the 80 items that went under the hammer that day eventually realised...
1 Set of 3 Pepsi Max Big One steps: Not Sold
2 Artist's impression of Frontierland Ranch House signed by Blackpool Pleasure Beach Managing Director Geoffrey Thompson: £6
3 TRAUMAtizer jacket, XL - ex marketing department: £12
4 4-piece hand-painted Las Vegas mural, ex BPB very large: £22
5 Hand painted grim reaper, ex BPB Horror Bar: £13
6 Mounted park map Casa de Campo, Madrid 1970s: £27
7 Mounted poster, Six Flags Atlanta, 1970s: £5
8 Mounted Poster, Walt Disney World 1970s: £7
9 1 Clown Head, ex games machine: £30
10 Large Frontierland grounds plan 1988: £10
11 Large Frontierland grounds plan 1988 (As lot 10): £11
12 Pair of fibreglass moulds (Scroll & Horse design) Jacksons: £10
13 1 Cyclone wheel - small: £11
14 1 Cyclone wheel - large: £5
15 Mounted poster, Movieland Wax museum featuring Clark Gable: Not Sold
16 Plywood Sailing Junk restaurant sign: £5
17 Small Pleasureland waltzer sign, double sided: £27
18 Maygay Fruit Explosion fruit machine, fully working: £90
19 Medium Frontier Fred: £22
20 Hand-painted 1960s gaming machine sign: £22
21 Project 94 "Sorry about the mess" sign (PMBO): £50
22 Small plywood fairy ex. BPB: £16
23 Mounted Danish park poster 1930s: £28
24 Mounted poster Liesberg 1970s: £5
25 Mounted map Hershey Park 1970s: £14
26 Prototype River Caves dinosaurs sign: £37
27 Lap bar from Stampede coaster, Frontierland: £3
28 Medium Mr Funshine sign: £50
29 1 Texas Tornado train badge: £15
30 1 Texas Tornado train badge: £15
31 Small plywood Frontier Fred (no feet!): £16
32 Cafe de Paris illuminated sign, ex Mystique: £21
33 Pair of TRAUMAtizer wheels: £12
34 Pair TRAUMAtizer wheels: £19
35 Plywood Frontierland welcome sign: £40
36 Framed Britannia skeleton, ex BPB Horror Bar: £36
37 Mounted poster, Tivoli, 1970s: £17
38 Texas Tornado No. 3 break (7ft): £20
39 Frontierland themed artists impression - games units 1984: £10
40 Plan of Morecambe Casino 1957: £8
41 Slightly damaged artwork of Fun House and Ghost Train, Frontierland: £24
42 Morecambe Pleasure Park Log Flume Badge: £21
43 Morecambe Pleasure Park Log Flume badge: £21
44 Mounted poster Magic Mountain, Valencia 1970s: £17
45 Jackson's Waltzer operator box window, signed "Pay in the Car": £3
46 Mounted poster, early Six Flags Mid-America: Not Sold
47 Mounted Poster Greezed Lightnin' Astroworld, Houston 1978: £20
48 Frontierland map and development plan, framed: £85
49 Small Fun House style distorting mirror: £38
50 Frontierland monorail and casino plans (Set of 2): £20
51 New desk jotter featuring water chute and Hiram Maxim, picture of Pleasureland circa 1912: £6
52 Large Frontier Fred, plywood: £28
53 Pair of TRAUMAtizer airbags, from braking system: £3
54 Large BPB grounds plan, weathered - 1992: £32
55 Mounted poster Disneyland 1970s: £8
56 BPB ride tickets sign, medium: £25
57 Mounted poster "Nicky's International Circus" ex BPB: £10
58 Derby Day early glass machine front: £10
59 Plywood Sailing Junk restaurant sign: £12
60 Mounted poster Six Flags 1970s: £5
61 1 Cyclone wheel - large: £5
62 1 Cyclone wheel - small: £5
63 BPB ride tickets sign - large: £40
64 Mounted poster Marine World Africa USA, 1970s: £42
65 Mounted Poster Astroworld, Houston 1970s: £30
66 Texas Tornado No. 1 brake lever (7ft): £19
67 Entrance sign, Rattler Coaster Frontierland: £26
68 Large selection of Greatest Show on Earth backdrop: Not Sold
69 Proposals for "Showman" development at Frontierland: £20
70 Set of assorted Frontierland plans x3: £8
71 Set of assorted Frontierland plans x3: £8
72 Set of assorted Frontierland plans x3: £8
73 Set of assorted Frontierland plans x5: £15
74 Assorted Pleasureland literature and artwork, 1996-2003: £26
75 1 pair BPB centenary cufflinks: £20
76 1 large Mr Funshine directional sign (right facing) pointing to Noah's Ark, Tagada, Wild Mouse and Refreshments: £250
(Another was also sold for this amount when auctioneer intervened and offered a second sign allowing for the two bidders to have one each): £250
77 Set of Texas Tornado safety chains and eyes: £5
78 1 large BPB "Big Country" sign: £40
79 1 set of VIP invites to Pleasureland ride launches (TRAUMAtizer, Casablanca, King Solomon Mines & Space Shot): £11
80 Fun House commemorative plaque presented by RCCGB, signed by both Andy Hine and Justin Garvanovic: £60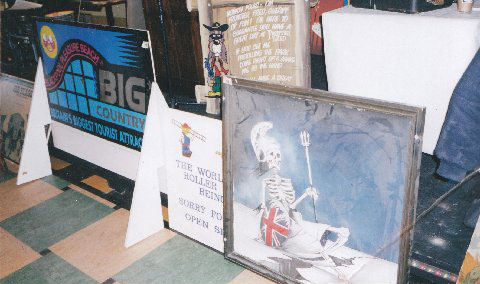 The large 'Big Country' Blackpool Pleasure Beach sign to the left fetched £40, and the framed Britannia skeleton (ex BPB Horror Bar) to the right fetched £36. Photograph: themagiceye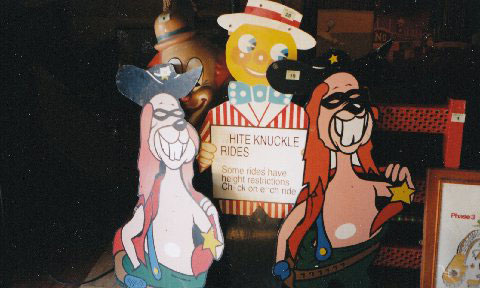 More lots from the Pleasureland auction. Photograph: themagiceye