Botton Bros Pleasure Beach, Grand Parade, Skegness
At the time this was by far the largest amusement park on the Lincolnshire coast with 14 large attractions. It was completely enclosed by buildings - which housed side stalls, cafes and arcades. This meant that expansion was pretty limited. But, even today, it has managed to maintain the atmosphere of a traditional seaside amusement park rather than attempting to turn itself into some corporate theme park.
The Wild Mouse was built on top of the building that housed the Jungle Safari on the beach side of the park (see top photograph on previous page). This gave the ride added height and an added fear factor. These rides always used to scare the living daylights out of me. Anybody who has ridden the Mouse at Blackpool Pleasure Beach will understand that these original mice give a much wilder ride than their modern day counterparts. The Rock n Roller stands on this position today. The Jungle Safari looked like it was a homemade dark ride. It was similar to a Ghost Train but with a jungle theme. I never ventured inside. Today the building is an amusement arcade.
I'm not sure about the origins of the Panoramic Wheel but I think it was a French Corbiere manufactured 14 car ride. These wheels were unusual as they revolved on a vertical axis and the horizontal base. But when I visited the park the base no longer turned. Another aerial attraction was the Lighthouse Slip, or Helter Skelter. These were a common sight at the seaside when I was growing up but now seem to be an exceptionally rare sight around our country's coastline. It was manufactured by Coventry-based Supercar, was made of aluminium and painted white with red wiggling stripes from the top to its base.
There was also a large Fun House built in a permanent building. This had all the usual fun house tricks inside including a joy wheel and moving staircase. There was a window where you could look out across the park. The building is still at the park today but I'm unsure what it's purpose is, maybe a storeroom?
One unusual novelty was the tipping Vampire Jets. This ride made an awesome spectacle when it was in full flight. Once in motion the centre lifted and then it tilted; riders could raise the individual jets themselves throughout the ride. Only four of these rides were ever built by Lang Wheels in the UK but I believe they were much more popular on the continent.
The Lifting Paratrooper had been a recent arrival when I visited the park. It was a 12 car machine that had been manufactured by Maxwell's. The company only made seven of these machines, including one for Botton's other park in Great Yarmouth. I always thought these were more attractive than the lifting paratroopers manufactured by rival companies and seemed to give a better ride too.
The park's Waltzer was also manufactured by Maxwell's; again they made another identical Waltzer for the company's Norfolk park. This ride looked very futuristic as it had moulded plastic roundings with flashing disco lights inlaid and a flat blue and orange fibreglass ceiling, although the shutters had more traditional decoration. This ride is still at the park today although it has a much more traditional appearance.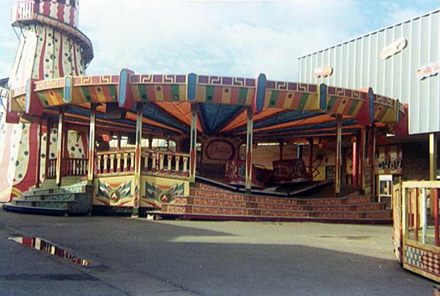 Above: The futuristic Waltzer in the 1970s, with moulded plastic rounding boards. Picture: National Fairground Archive
The Rocketdrome Ark had been built for Botton Bros by R J Lakin and really was a handsome machine. The front boards had a couple of space rockets painted on them and it had deep rounding boards which were attractively painted. It had done a spell at Battersea's Festival Gardens before coming to Skeggy and survived for many years. Like so many arks it ended up being converted to a waltzer. It does still travel the fairs, although you would never recognise it as W Cole's Silver Surfer Waltzer.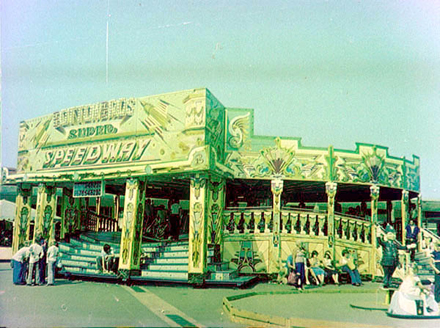 Above: Botton's Ark ride in the 1970s. Picture: National Fairground Archive
Another ride which had been stationed at Battersea was the three abreast Gallopers. This had arrived in 1966 and remained in Skegness for more than 20 years. Today it takes pride of place in front of Silcock's Funland on Southport pier.
The Flying Skid dated back to the 1930s but had been continually updated. Another handsome machine its rounding boards were covered in decorative art work including a winged Mercury over the ride's name. But, as with all these rides, it made a fair old noise once it got moving. It spent around 10 years at the park until 1976 but ended its days at another seaside park in Seaton Carew.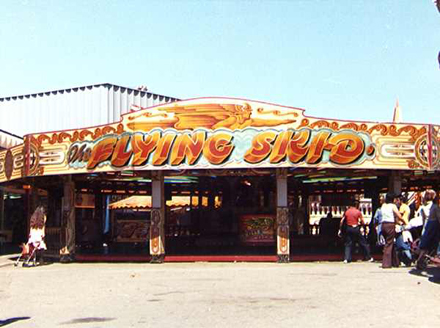 Above: The Flying Skid in the 1970s. Picture: National Fairground Archive
Billy Butlin acquired the sole licence to bring Dodgems to this country and it wasn't long before there was a track installed at Skegness. By the 70s the popular ride was installed in a large permanent building that is still used to this day. The Twist was built by Edwin Hall and originally a grasscutter style but it had been built on a permanent concrete floor giving the impression that it was a platform ride.
The final large attraction was more of a sideshow than a ride. The Wall Of Death was built up next to the Wild Mouse. Stunt motorcyclists rode at high speed around the inside of a barrel as spectators looked down from a platform above the wall.