One ride I quite like operating is Whirlwind. Although I dislike this ride in a ride sense it's OK to operate as the work is non-stop all day from open to close.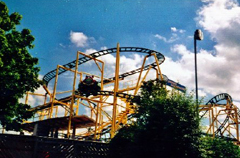 I donít like being idle; I have to keep working to stop myself from being bored.
My favourite ride to operate however has to be the Dragon Flyer!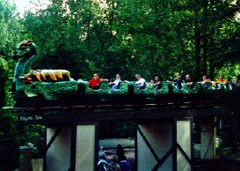 At the start of 2006 I applied for section leader but I was unsuccessful so I decided to be an operator on Section 1.
The main reason is because I have always wanted to drive the Dragon Flyer. I like the Dragon Flyer because with most of the other rides I sit in a control box and push a few buttons whereas with the Dragon Flyer I sit on the ride and drive it!
You need to be skilled to drive the Dragon Flyer. You must make sure to brake in the correct places, not to go too fast on the sharp curves and to make it stop in the correct position on the platform. (This is difficult especially when it has been raining. In addition to this you have to keep an eye on the guests behind you.)
There is only one thing I dislike about the Dragon Flyer: Being quite a big guy the cab is very small and is literally a pain in the neck and back!
A guest gets a full seat with plenty of leg space, whereas I have to put up with a petrol tank taking up half of my seat and having my knees up to my chin...but it is worth it!
Below right is a picture of The Dragon Flyer's engine. I donít know what spec it is but on a good day we can get the Flyer up to about 25mph...but on a bad day it sounds more like like a jet taking off!!
One time this year (2006) when I was driving the Dragon Flyer across Pendragon's Plunge I saw a large group of people taking photographs of a woman. She had what looked like a few bodyguards next to her. I later found out it was Kerry Katona (ex Atomic Kitten).