VIKINGAR'S LAST STAND (PART 2)
Article by Gary Radice, Nick Laister, Dave Boardman, Ash Stanworth, John Forknall, Fraser Grant, John Burke, John Phillips, Gordon (from Holland), Brian McCormick, George Drew, Ryan, Gary Amos
Article: Added January 2006
Many thanks to Dave Boardman for the following:
You have to go back to Belle Vue, Manchester to find the roots of the Vikingar. Known then as the Water Chute it was situated next to the Hyde Road turnstiles and the legendary Bobs rollercoaster.
The ride was fairly simple, with a car designed to hold a number of pairs of passengers. The car slowly climbed a steep track, swung around a short summit and then hurtled down into a pool that was surrounded by a glass viewing wall. The riders screamed as they descended the track towards the water and the spectators ducked and flinched every time the water crashed against the glass wall.
Dave Boardman runs the website BelleVue Revisited.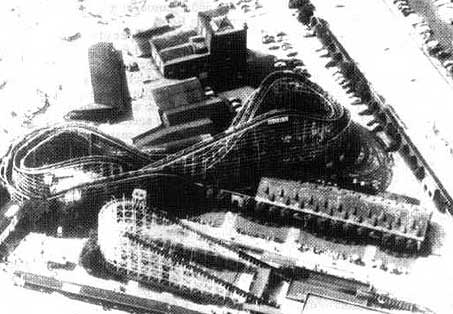 Vikingar at its previous home of Belle Vue, Manchester, standing alongside the mighty Bobs roller coaster. Image: European Coaster Club/www.coasterclub.org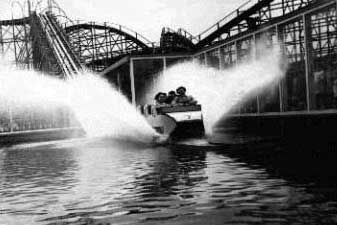 The Belle Vue water chute in action. Image: Photograph used with the permission of Janice Watts and Dave Boardman.