If Colwyn Bay was genteel in comparison to Rhyl the final resort of our journey, Llandudno, was positively refined.
A small children's park operated on the seafront close to the Gaiety Theatre. This was called Kiddies Funland.
There was a children's Ferris wheel, roundabout, trampolines, swingboats, coin operated mini dodgems and a western stage coach ride on which the stage coach and fake horses travelled round a wigwam.

This park was revamped at the start of the 70s and I remember a Moon Walk and a square slip arriving. The Moon Walk was one of the type which had a face on it with a big bright yellow nose at the entrance and a blue and yellow top.
There was a mini octopus and the toy roundabout stayed in place.

Although the resort never had a permanent full size amusement park, each summer Wrexham-based showman George Simons would pay an extended visit. The fairground would set up in a field just behind the Kiddies Funland for the main part of the summer season.
The two large rides were the 'Carousel' Ark Speedway and Dodgems.

There was also a walk through haunted castle built onto a lorry and a large set of swingboats with children's roundabouts.

Some years later these were joined by a Big Wheel and Paratrooper, which was thrilling to ride as the cars swung out over the main road.

One summer I remember also seeing an open top whip ride. This was similar to the one found at Blackpool Pleasure Beach but much smaller in size.

Finally, the resort's pier was home to a small selection of amusements.

Originally there was a set of Water Dodgems at the landward end of the pier. They were basically dodgems but they floated on water. These were removed when the neighbouring amusement arcade was redeveloped.

Two rides were constructed half way along the pier. These were a Ghost Train and an indoor veteran car ride which travelled through scenes from different countries called Around The World.
Unfortunately none of these attractions exist today.

The last time I visited Llandudno the only amusements were an Astroglide and small Gallopers on the pier itself.

That brings to an end my trip down memory lane and look at some of the many amusement parks that are no more.
It seems a great shame that so many seaside councils hold the view that progress can only be made by removing so many of the very attractions that once helped bring visitors to their resorts.
Perhaps it would be worth their while making a trip to Copenhagen, Stockholm, Helsinki or Vienna to see what happens when traditional parks are maintained and old rides still stand proudly alongside the latest thrillers.
Maybe then they would not be so keen on demolishing this country's heritage - only to replace it with new (but not necessarily needed or affordable) housing, and yet more awful retail developments or leisure centres that nobody ever uses.
About Phil Gould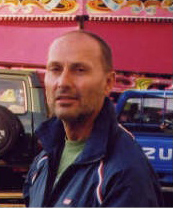 Phil was born in Stoke-on-Trent in the early 60s.
After gaining a degree in communications at Sheffield
University, his first foray into the heady world of journalism occurred when he landed a job as a cub reporter at the Scunthorpe Evening Telegraph.
Today Phil lives in London and is an editor on a national celebrity magazine where he gets to regularly rub shoulders with the famous "and not so famous."
In this article - written especially for themagiceye - Phil revisits the North Wales of his childhood summer holidays from the '60s and '70s.
Phil kindly shares his memories and photographs of a bygone time.
All words and pictures courtesy of Phil Gould unless otherwise stated.
Thanks also to Dawn (a reader of themagiceye) for kindly supplying additional images.