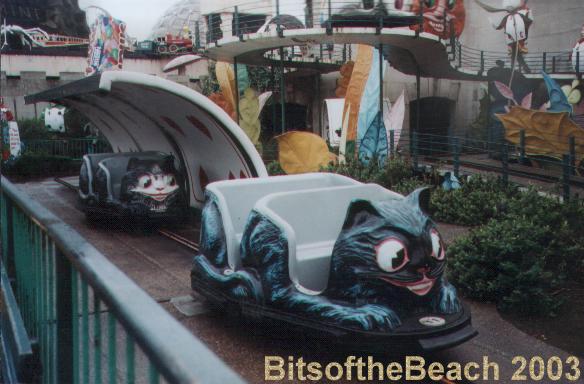 Under license from Disney, this colourful family ride opened in 1961. It has always been a favourite with park visitors.
Hi-tech it isn't and thrill seekers aren't going to find much that interests them here, however the ride does have a charm all of its own...
Curiously there are at least five spelling mistakes in the ride: I'me (twice), your'e, catterpiller and topsy-turvey...Curiouser and curiouser...
Commonly called "The Alice Ride" - as characters from both Wonderland and Through the Looking Glass appear - the highlights of the ride include the topsy-turvy room and the trip down the rabbit hole.
Beware the jolt as the ride starts. As at 8/3/03 the ride ops are pointing this out to riders...
As at 24/8/03 this ride now comes complete with seatbelts!
21st May 2004:

AN INVESTIGATION was today launched into a massive blaze which engulfed Blackpool Pleasure Beach.
The fire last night destroyed part of the 69-year-old Grand National rollercoaster as well as damaging the Alice in Wonderland children's ride and the Trauma Towers walk-through attraction..
The side of the Alice in Wonderland building which backs onto the National has been damaged and will be closed.