The Ed Marzola Interview (2) - Blackpool's Pasaje
Tell me a little about yourself.

I participated with the company (Monsters and Monsters) in the setting up of venues in Seville, Malaga and Orlando for the attraction. I also sold, promoted and advertised further installations following this...the Pasaje del Terror at the Tibidabo in Barcelona was one of them but it ran more autonomously than the rest.

Parallel to this I was instrumental in obtaining the 75 cars that became the core of the 'Hollywood Car Show'.

How long did you work for the company?

I believe I was associated with the company for some 3 or 4 years. I know I am not being very specific but this is because I was not a salaried employee, but rather a consultant paid on a per-project basis.

When did the company first attempt to sell the Pasaje del Terror to Geoffrey Thompson at Blackpool Pleasure Beach?

We first went to Blackpool some time in 1993, and met with Geoffrey Thompson and David Mercer of the Blackpool Leisure and Amusement Consultancy Ltd. We did not sell the Pasaje at that time because they did not have the space for it at the park itself.

I am happy to see that Blackpool has finally installed one.

We went there many times trying to convince Geoffrey Thompson to have one in the park, but all we got was a lukewarm reception and the suggestion to install it in Morecambe which compared to Blackpool is a rather sad seaside place without the traffic of the main park.

On a field trip to Morecambe we determined that the flow of public would not be enough to sustain its commercial operation.

Did you ever go to Southport?

Actually it's been so long ago that Southport sounds familiar!

Perhaps I was mistaken (apologies) and maybe that's the place they suggested instead of Morecambe.

What I do remember vividly is that it was a rather sad beachy area without the pull of Blackpool.

...sounds like Morecambe!

...and after some study we determined that the exploitation would only be successful at Blackpool Pleasure Beach.

What were the Blackpool management's initial impressions of the Pasaje del Terror attraction?

The executives told us they liked the concept, but were hesitant to empty one of the operating structures at the main Blackpool Pleasure Beach site to try something so new and different as this attraction.

Evidently they have now changed their minds and I hope the thing works well for them.

What sort of agreement does Blackpool have with the ride?

Unfortunately I was out of the loop when the deal was closed, so I do not have any details.

If I ever run into them I will ask the same question, perhaps at the upcoming IAAPA convention in Florida next month. IAAPA stands for International Association of Amusement Parks and Attractions - a trade association that you can visit at: www.iaapa.org

What are your own impressions of the Pleasure Beach?

I love England, and in fact I had a residence in London as I was married to a girl from Liverpool!

Blackpool Pleasure Beach is a great park because it has remained true to its early roots. It has a long history and I believe has been owned and operated by the same family since its opening some 100 or more years ago.

And yet, as old as it is, the administration has managed to modernize and improve it constantly, and this is quite a remarkable accomplishment.

When did you leave the company and what are you doing now?

I was never a salaried employee of the company but was active in many projects for them until about 1996/97.

I travelled a lot on their behalf actually and those records are long gone. To give you an idea, in just two years I travelled 52 times to Europe!

Some years ago I also worked with a chap from Glasgow that had created "Alien Adventure", another walk thru attraction based on the movie "Alien". The idea was well executed - a "guide" took a group of people through a hi-tech facility that presumably was holding the alien from the film, when suddenly the alien escaped and the terrorized public had to find their way out to safety.

It was well done, I'd say, with venues in Piccadilly, London, and also in Glasgow.

In 1994 I became involved with the Pele sports and marketing organisation and produced for them some 50 tv programmes featuring Edson Arantes do Nascimento (Pele), perhaps the greatest football player of all time.

I met and interviewed for TV Bobby Charlton, Michel Platini and many other prominent footballers.

Right now (2001) I am producing a weekly radio programme that reaches 23 million households in the US and also preparing a series of sports related programmes for worldwide television.

Ed Marzola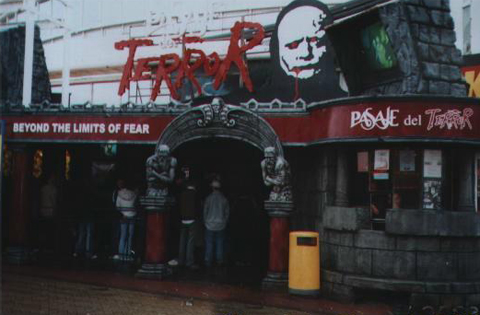 The Pasaje del Terror at Blackpool

The UK's first Pasaje del Terror opened at Blackpool Pleasure Beach in 1998.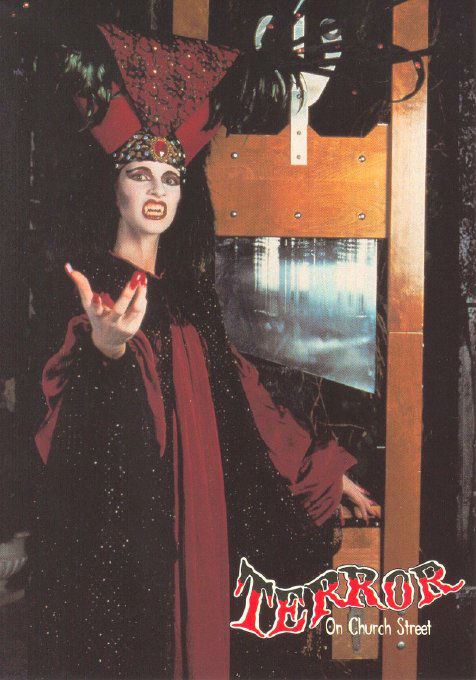 A scene from Terror on Church Street