The park is divided into 3 sections in ride terms:
Section 1 is the front of the park up to the Ferris wheel (Kingdom in the clouds).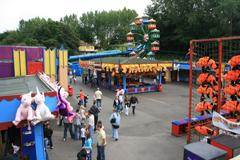 Section 2 is all the kidsí rides around Playland including the Driving School, Teacups and the Mini Train.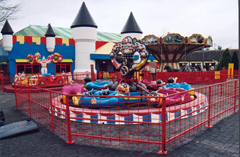 The rest of the park is classed as Section 3 and includes all the bigger rides: i.e. the Balloons (Falcons' Flight) and Dungeons of Doom.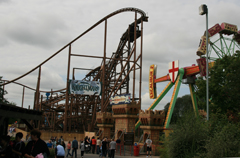 In the morning I start at 9:30am. I am assigned a ride for the day, then I collect my ride keys, radios and paper work.
From 9:30am I have 30 minutes to complete my ride checks, fill out the paperwork and clean my ride. I must finish before 10:00am when the park opens.
At 10:00am the park opens and a normal day begins.
Sometime between 11:30am and 1:30pm I will have a 30 minute break and between 2:30pm and 3:30pm I will have another break - this time for 20 minutes.
Now then...the time I finish depends on two things: how busy the park is and what section I am on that day. In the past this has varied from anything between 4:30pm and 6:00pm but on average I finish about 5:00pm.
Normally there are three days of training - these are on the weekends leading up to the beginning of the season.
The first day takes place at the Medieval Banquet Room at the Park Hall Hotel and is basically an introduction to all the main staff, Health and Safety Training, Fire Training, Park Rules and Regulations and Customer Care.
Next it's rides' training: we learn the procedures for filling out the paper work properly, disability awareness, discrimination etc.
Finally we are trained on the rides themselves. How to operate them, the height limits, evacuation procedures, cleaning procedures, opening and closing them etc.
For every ride I am trained on there is a questionnaire to fill out which is about 2 pages long with, on average, about 20 questions on each and you have to listen to your trainer carefully to get all the answers.
An average operator is trained on 8 or 9 rides.
I am currently trained on about 15 so thatís a lot of questions but in general the information you need to know is much the same for each ride.
Whatís the height limit? How do you stop the ride? And so on.