In 2000, Ed Marzola kindly provided themagiceye with pictures and information regarding the now sadly defunct walk through attraction 'Terror on Church Street' in Orlando, Florida USA. In addition to Terror on Church Street, Ed spoke about his role in attempting to bring The Pasaje del Terror concept to Blackpool UK. The article also traced the roots of Terror on Church Street and other Pasaje del Terror attractions back to Argentina. To date, the article 'Rites of Pasaje' has remained the most read of all themagiceye articles. Rites of Pasaje, however, has just got better and now comes complete with a 'Re-Vamp'!
In March 2006, Ed Marzola sent themagiceye more information and pictures, some of which were thought lost. Sit back and take time to browse through this 'Director's Cut' of the original article 'Rites of Pasaje'. Please note that some of the content may not be considered suitable for children to view. Parental discretion is therefore advised.
Click on Death's head to continue...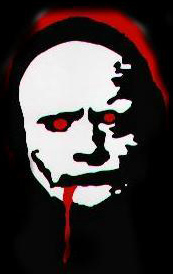 All pictures are provided by Ed Marzola unless otherwise stated and the storyboard is by themagiceye.
---