Over the years there have been some funny stories and strange questions from members of the public. Like the family that wanted to know if the fair would still be there the following day. They thought it was a travelling fair!
When I started work for Pleasure Beach Blackpool I operated most of the rides but the majority was spent on the Big Dipper where I was the charge hand.
One Indian gentleman came off the Big Dipper looking ashen faced as he thought he was going on the Log Flume but had joined the wrong queue.
And then there was the boy sitting on the Big Dipper who asked me if it was the Helter Skelter he was on!
I remember a 'not so bright' operator who saw some customers drinking beer on the Tom Sawyer ride. He decided to confiscate it by jumping into the water and wading waist high up to the raft to retrieve the beer.
Afterwards he was told to dry off by standing at the edge of the large circular rotating platform (where people get on/off the ride) with his arms and legs spread out. He did this for about an hour before he realised it was a wind up!
I don't have any stories regarding Adrian Fisher's Chinese Puzzle Maze from the South Park but I remember a story about the original Maze that was based next to The Fun House behind The Derby Racer.
The cashier's manager at the time, Bob Cowan - who sadly passed away only this year - told me about a little old lady who cashiered on the Maze for many years. One day it was discovered that she had somehow managed to acquire her own admission sign showing 5 pence more than the actual entrance fee.
She used to put her sign in front of the original sign and take five pence for herself for every admission!
Looks can be deceiving...
BITSoftheBEACH:

If you look towards the Avalanche whilst standing on Tom Sawyer's Bridge you can make out what appears to be a wall standing in isolation.
So what is it?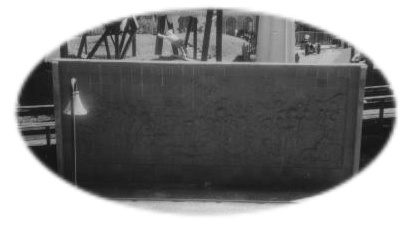 It's a sculpture by Judith Bluck (a Fellow of the Royal Society of Sculptors) that was erected in the park in July 1999.
This mural of Accrington Brick was originally commissioned in 1980 for the Victoria Street entrance of Blackpool's Hounds Hill shopping centre but the seaside postcard theme was deemed too politically incorrect by councillors at a planning meeting so the sculpture was taken down and put into storage.
Pleasure Beach Blackpool had the sense to buy it and now people can make up their own minds.
)